What does the Accelerator Lab plan to do?
In collaboration with GIZ Data Lab and GIZ Mexico, the Lab is combining open data about urban infrastructure (such as public transport) with closed government datasets about the use of new panic buttons. They hope this will lead to a better understanding of the urban characteristics associated with GBV in public spaces across Mexico City. They will also work with datasets that tap into residents' perceptions of urban safety, such as sentiment analysis of social media and crowdmapping with local women's groups. By mobilizing these different sources of intelligence, they will test whether collective intelligence can help them to identify the urban spaces where women are safest (using a method known as data driven positive deviance). Cross-correlating their findings with the known locations of the government's safer pathways will also help the government to evaluate which policy measures have been most successful, in order to guide future interventions.
Figure 8 
Exploratory spatial analysis of different parts of Mexico City
Colors reveal clusters defined by population density and average incoming trips by women.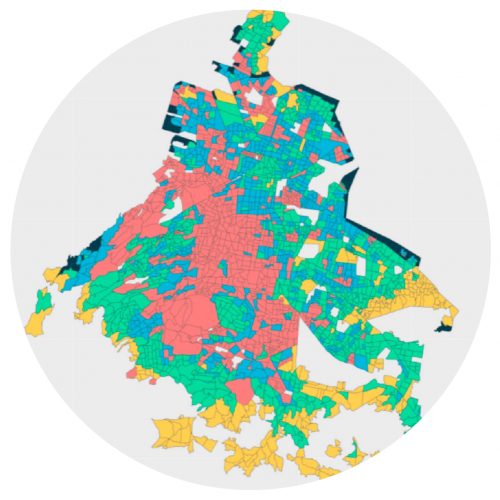 What does this experience tell us about collective intelligence design?
The Lab has benefited from the government's long standing support of open data practices and existing data infrastructure within the public sector. However, negotiating a Memorandum of Understanding for the use of non-public government datasets can still take many months. To overcome this, the Lab has started by working with open datasets to develop a proof of concept. Thinking creatively about how they can already work with existing available data, as they wait to finalize data sharing agreements, has given the team flexibility and time to experiment with new methods.